How cryptocurrency affects the economy varies from country to country, source among other things. Cryptocurrency is in the news, and While it may not be a household name, cryptocurrencies are starting to significantly impact global economies, businesses, and society. This post will explore how cryptocurrency affects the economy through its economic impact, industry, and source. Today's article will give you complete insights into how the world has grown since the advent of this globally accepted financial technology.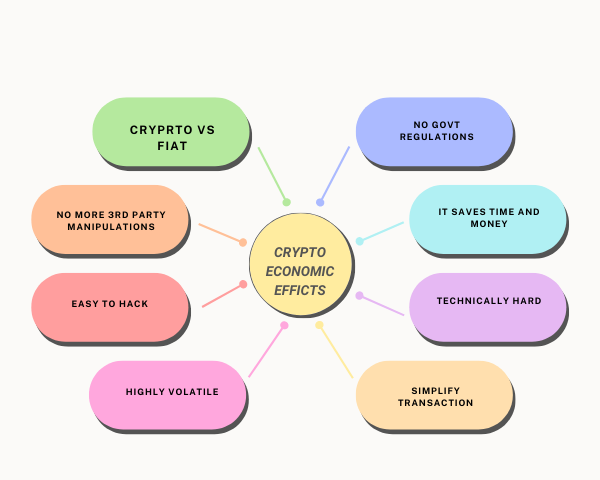 Cryptocurrency vs Fiat currency: What's the difference?
Because cryptocurrency and fiat currency are currencies,  some basic properties are the same. The fundamental similarity is that both currencies are used to exchange value, which means people can use both currencies to buy or sell anything.
What is Fiat Currency?
Fiat is a government-issued currency used as legal tender in financial transactions. Because cryptocurrency is decentralized, no governing body regulates its value. Furthermore, it is not a legal practice in all countries.
Fiat money, in theory, has no supply limits because more can be printed at any time. Most cryptocurrencies generate a limited number of coins that can ever exist. Whereas digital currency cannot be represented by physical notes and coins, fiat currency can. Digital currency must be stored in digital wallets, also known as cryptocurrency wallets. Because fiat can be represented physically or digitally, it can also be stored in various ways.
Are you interested in learning how to day trade for a living?
What is Cryptocurrency?
Cryptocurrencies were digital paperless money invented in 2009; since then, there has been no regulation or government. Many people have taken advantage of the decentralized currency and used it for investing. Gradually, cryptocurrencies started becoming as powerful as fiat currencies, which means you can buy anything you want with them.
The Big Difference
Cryptocurrency has some advantages that fiat currency does not have at the moment. Cryptocurrency is widely accepted and easy to send anywhere in the world. This feature of Bitcoin distinguishes it as a distinct currency, which is why a large population has legally or illegally accepted Bitcoin.
Bitcoin is not yet equated to debt, meaning that if you owe someone, a bank, or anything, it cannot be paid back with bitcoin. In the case of debt repayment, one must use fiat currency issued by the government, and only it will balance the value. Because the government is not controlling the bitcoin price, it can go up and down at any point.
However, this does not mean that you cannot use bitcoin to pay off debt; in most cases, it is not used, but if both parties agree to exchange bitcoins, then the recipient can use the bitcoin to pay off the debt. But that depends on a lender to lender; many may not be willing to accept payments in Bitcoin. It entirely depends on the acceptance of the lender and the borrower.
In addition, the preservation of both currencies is questionable; in the case of bitcoin, you can store it in a hardware wallet, but fiat currency needs to be stored in some vault with the right key and security.
How cryptocurrency affect

s

the economy
Cryptocurrency has begun to play a more prominent role in the global economy, affecting everything from how people invest to businesses. By allowing people to invest in goods and services without worrying about their money's safety, cryptocurrency has made it easier for people to conduct transactions. Cryptocurrency also keeps track of transactions between different parties without involving a third party, saving time and money. Additionally, cryptocurrency makes it easier for people to conduct transactions outside traditional banking. Finally, cryptocurrency provides an alternative currency not controlled or regulated by governments or banks.
What is the impact of cryptocurrency on the industry?
Cryptocurrency has the potential to revolutionize how economies function. Its most notable impacts are on the industry, the world, and the source. Cryptocurrency can reduce the cost of transactions by eliminating the need for a third party to mediate the exchange. It can also speed up transactions by reducing or eliminating the need for a middleman. Cryptocurrency's most groundbreaking impact may be its ability to provide a global economy where all users can exchange currency regardless of their citizenship. This would remove The barriers in traditional economies where citizens are restricted from exchanging currency with those from other countries. Cryptocurrency is thus a global economy in which all users exchange currency without the hassle of exchange rates and international law.
What is the impact of cryptocurrency on the source of the currency?
Cryptocurrency is a digital or virtual currency that uses cryptography to secure transactions and control the creation of new units. Cryptocurrency is decentralized, meaning that it is not subject to government or financial institutions' control. This makes it an attractive option for citizens living in countries with unstable currencies. Additionally, cryptocurrency allows citizens of more well-off countries to trade with each other without having to go through traditional banking channels, which can often be slow and expensive. This creates a level of economic equality among nations.
How cryptocurrency affects economy through the way we use money
Cryptocurrency has begun to change the way we use money. It does this by reducing the amount of paperwork and fraud that is involved in traditional banking, as well as improving financial institutions' cross-border transactions. In addition, cryptocurrency has been used to power messaging apps that are willing to deal with private investors, as well as being used in car leasing and sales, cloud computing, and government records, to name a few examples.
What are the benefits of cryptocurrency?
The transaction cost for cryptocurrency is low to none, unlike the cost of transferring money from a digital wallet to a bank account. You can conduct transactions at any time of day or night, and there are no purchase or withdrawal limits. In addition, unlike opening a bank account, which requires documentation and other paperwork, anyone can use cryptocurrency.
International cryptocurrency transactions are also more efficient than wire transfers. Money is transferred from one location to another via wire transfer in about half a day. Transactions with cryptocurrencies are completed in minutes or even seconds.
How cryptocurrency affects the economy: The risk
The main risk of trading cryptocurrencies is their volatility. They are high-risk and speculative, and you must understand the risks before you begin trading.
They are volatile: unexpected changes in market sentiment can cause sharp and unexpected price movements. It is not uncommon for the value of cryptocurrencies to plummet by hundreds, if not thousands, of dollars in a matter of seconds.
They are unregulated: 
At the moment, cryptocurrencies like Bitcoin are unregulated by both governments and central banks. However, they have recently gained more popularity. For example, there is debate over whether they should be classified as a commodity or a virtual currency.
They are vulnerable to errors and hacking: 
There is no foolproof method of preventing technical glitches, human error, or hacking.
They may be impacted by hard forks or discontinuation: 
Cryptocurrency trading entails additional risks such as hard forks or discontinuation. Before trading these products, you should become familiar with these risks. When a hard fork occurs, there may be significant price volatility in the immediate aftermath, and we may suspend trading if we do not have reliable prices from the underlying market.
What is the future of cryptocurrency?
Cryptocurrency is a digital asset that uses cryptography to secure transactions and control the creation of new units. Cryptocurrency has recently seen a surge in popularity, with more people investing in it as an asset class. There are a number of benefits for businesses that adopt cryptocurrency as a digital asset, including access to new demographics and technological efficiencies. However, the effects of policy and regulation on the industry demonstrate that cryptocurrency is not a completely decentralized thing that exists only on the blockchain.